Meet Niels - After 30 speedy days in our brand new Rotterdam office, and say hi to the 'founding team'
Since 2015, Vainu.io have been expanding outside Finland. It all started with Sweden and then followed by Norway, The US and the Netherlands in 2016. Today, we have a team of 8 people in Amsterdam. This month we opened in Rotterdam! We took some time to talk with Niels and the team!

---
In early September 2017, Niels Rodrigues joined our company.
After finishing his studies in Hogeschool Rotterdam, he quickly turned to Sales. A couple of years within Sales (Account Manager & Sales Manager responsible for a team of 10 FTEs) he founded his own Sales Consultancy Firm, guiding innovative startups in building their commercial activities.

After that, he was ready for something exciting.

Ready for new challenges.

He started in Vainu.io as a Business Development Manager in our Amsterdam Office back in 2017. With hard work and strong results, he quickly turned into a Team Leader within two months (…fastest promotion in the company so far!).

And he kept going...
So, when we thought of opening up our 7th office globally in Rotterdam, Niels' hometown, this September - We had our guy!
This is his story...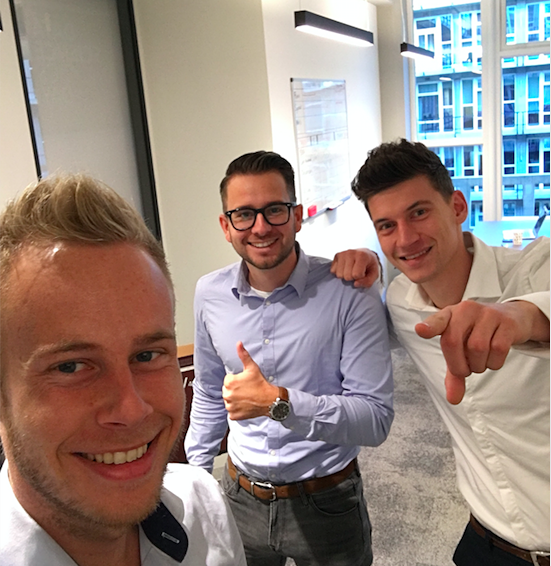 Back in October 2017, what was it about Vainu that made you eager to join?
"Noticing how fast Vainu was growing in highly innovative SaaS/Tech environment, I was always going to be eager to participate in that journey. Vainu provided lots of opportunities to develop myself on a personal and professional way by f.e. talking to c-level DM's but also to grow inside the company career-wise. The main reason why I sold my own company was to learn how to grow and build up an awesome company, which lessons I'm currently learning at Vainu."
Niels, what's the reason we opened up in Rotterdam?
"First of all, we believe Rotterdam is a great market business wise. But the main reason for opening Rotterdam was to find the right talent there. We could easily approach all interesting prospects based in Amsterdam, but to find the right professionals to contact them, we needed to look in different locations. So that's the reason we chose the (best) city Rotterdam, where we work out of an innovative environment next to Rotterdam Central."
Rumour says you and the team are performing really good, do we have some stats?
"Currently the new Business Development Managers Floris and Sjoerd are number one and two top-performers on our Dutch Market in total booked meetings this months with 47 and 37. Both Top 10 worldwide. Also very likely to hit our first sales and cadence target above 100%. This looks and feels promising for the Rotterdam and Netherlands in general!"
That's good, describe the 'founding' team!
All good things are three, even in this case. This is Floris and Sjoerd: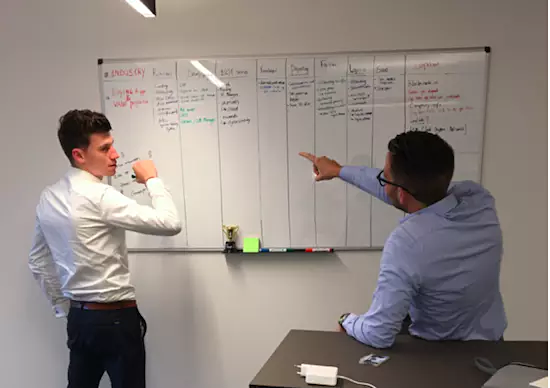 Floris Egbers: Before joining Vainu.io, he worked as a Sales Partner Specialist @ Uber and had his own online marketing company. Before that, he studied MSc in Economics from Erasmus University. He's the guy always bringing energy to the team (...and clients) every day!
Sjoerd Feenstra: Previously been working as a Sales coach at Direct Sales and lead multiple teams in different locations. Graduated last month with a BSc in Business Administrations at Hogeschool Utrecht, he's really motivated and driven, and it is infectious!
Niels, what about The Future?
"We want to get up to speed as fast as possible. Building up and expanding the team in Rotterdam with great sales talent living near Rotterdam, people with high ambitions and a winning attitude. Together with Floris and Sjoerd, we want to build a team that creates a continuous value to Vainu.io in Netherlands and Vainu Globally."  
Thank you Niels, Floris and Sjoerd, and team Netherlands!
/Fredric
Would you like to be a part of our Customer Success team in the Netherlands?
PS. We're now hiring a Client Manager to make sure that every client gets the most value out of Vainu.io. Do you have experience in SaaS, Customer Success and/or Sales and want to be a part of a fast-growing scale-up? Apply here: Client Manager